DIGITAL MARKETEER INTERNSHIP AT STYLESEARCH
​
WITH THE PROSPECT OF A PERMANENT POSITION
STYLESEARCH IS A NEW GENERATION FASHION SEARCH ENGINE
VOTED TOP 10 FASHION DISRUPTOR GLOBALLY
BY PRADA, STONE ISLAND, PWC AND ACCENTURE A.O.
BE PART OF SOMETHING AWESOME!
StyleSearch is an Amsterdam based startup that is changing the way that people shop for fashion. We are on a mission to make every garment searchable, based on your style. We do this with an amazing and inspiring shopping experience.
​
Our founder, Orpheo, a technical genius who takes his style seriously, started StyleSearch two years ago after becoming fed up with drowning in tabs browsing through multiple webshops and hundreds of irrelevant articles of clothing when shopping for clothing online.
Furthermore it proved to be extremely difficult to find the garments seen on cool outfits from influencers on Instagram. Sometimes the brand is tagged, but still it takes a long time to find the garment or something similar looking. Let alone when the image is older and the garments worn by the influencer are no longer in stock or in the collection. What then?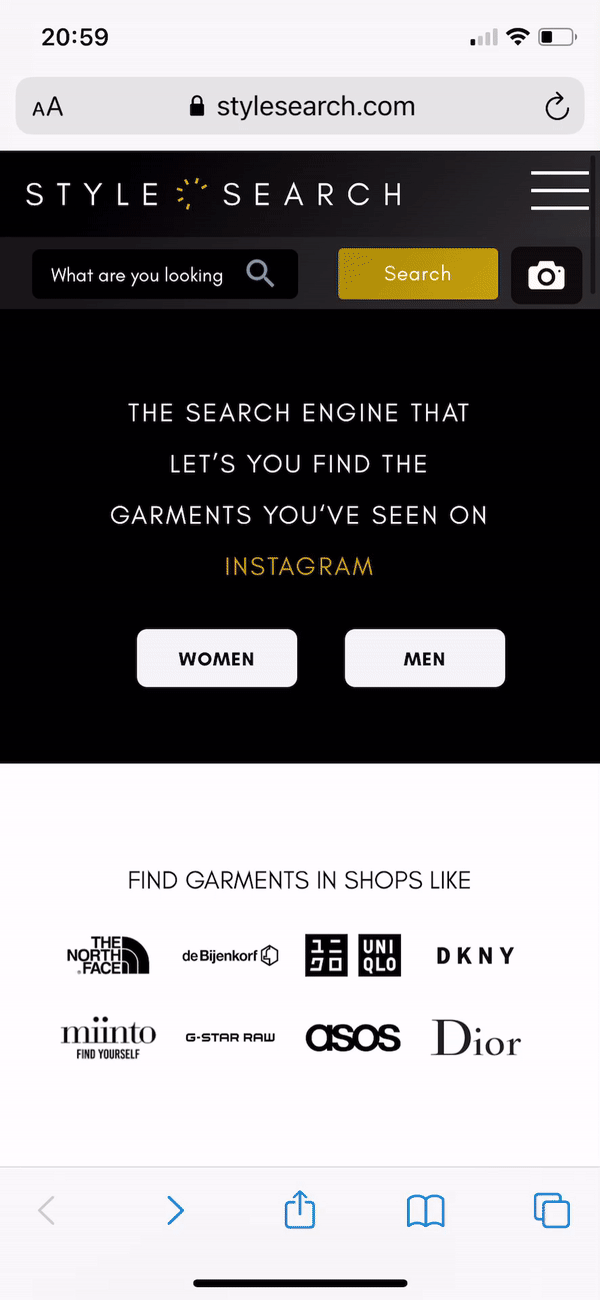 Tackling this challenge head on, we combine Visual Recognition Technology and Artificial Intelligence to help you find the garments you've seen on Instagram.
We launched our search engine in early May 2020 and just recently relaunched with our current platform.
​
Recognized as a top 10 fashion disruptor globally by the likes of Prada, Stone Island, PWC and Accenture, we are already making waves in the fashion industry. To keep the momentum we have created we are looking for a Digital Marketeer to help drive us forward.
INTERNSHIP DIGITAL MARKETEER WITH PROSPECT OF PERMANENT POSITION
Social Media: Manage our social media channels. Build a strong following and create unique content across key social media channels including Instagram, Facebook, Pinterest, and LinkedIn

Influencers: Scout inspiring fashion influencers and approach them to be listed on StyleSearch. Manage the influencers and build personal relationships with them. Help them to get the most out of their own influencer pages on StyleSearch and also to get the best results for StyleSearch

Design: Create attention grabbing designs for our social channels

PR: Engaging with the media, bloggers and key influencers to make StyleSearch famous

Analytics: Tracking of Marketing KPIs​
If you'll rock this internship there will be the possibility for a full time permanent position

​You will be part of a great adventure with one of the top 10 most promising FashionTech startups globally

You will directly contribute to the success of a fast paced business that is going places

This is not just a 'doing' role. Your ideas are as valid as anyone in the team's

You will work alongside an inspiring, engaging and experienced team. We are informal, light hearted and believe that great work comes from a great team environment

A chance to develop hands on experience across multiple facets of digital marketing on challenging and interesting projects

You will see your ideas come to life. If you have a great idea and the drive to see it through, you can make it happen!
WHAT WE WOULD LOVE ABOUT YOU
You are a go-getter. Positive and energetic, you chase down opportunities and if you don't know how to do something you'll ask someone who does or go out and find a solution

You have an opinion. We are innovating every day and believe that great ideas can come from anywhere

You aren't afraid to 'get your hands dirty' beyond your primary role. We're a small team and help each other out even if "it's not my job"

You are flexible and able to adapt to the fast changing nature of working in an ambitious startup

You are intellectually curious, want to learn and enjoy working in a test-learn-improve-reiterate environment. At the same time, hopefully we will learn a thing or two from you
You have a degree in the field of Business, Marketing or Communications

You have initiative, great organizational abilities and thrive under pressure in a fast paced, constantly changing environment

You have strong attention to detail and project management capability

You have a strong interest in and knowledge of digital marketing and social media

You are interested in fashion and eCommerce

You are fluent in English and have a flair and talent for creative writing

Experience with AdWords, SEO, SEA and content management and analytics software is a plus
Send your CV to Noud at noud@stylesearch.com and tell us a bit about yourself, why you want to work for StyleSearch and why you think you'd be awesome for this position.
AND REMEMBER,
THIS INTERNSHIP HAS

THE PROSPECT OF A PERMANENT POSITION!