SOCIAL MEDIA & PR MANAGER
AT STYLESEARCH
STYLESEARCH IS A NEW GENERATION FASHION SEARCH ENGINE
VOTED TOP 10 FASHION DISRUPTOR GLOBALLY
BY PRADA, STONE ISLAND, PWC AND ACCENTURE A.O.
BE PART OF SOMETHING AWESOME!
StyleSearch is an Amsterdam based startup that is changing the way that people shop for fashion. We are on a mission to make every garment searchable, based on your style. We do this with an amazing and inspiring shopping experience.
​
Our founder, Orpheo, a technical genius who takes his style seriously, started StyleSearch two years ago after becoming fed up with drowning in tabs browsing through multiple webshops and hundreds of irrelevant articles of clothing when shopping for clothing online.
Furthermore it proved to be extremely difficult to find the garments seen on cool outfits from influencers on Instagram. Sometimes the brand is tagged, but still it takes a long time to find the garment or something similar looking. Let alone when the image is older and the garments worn by the influencer are no longer in stock or in the collection. What then?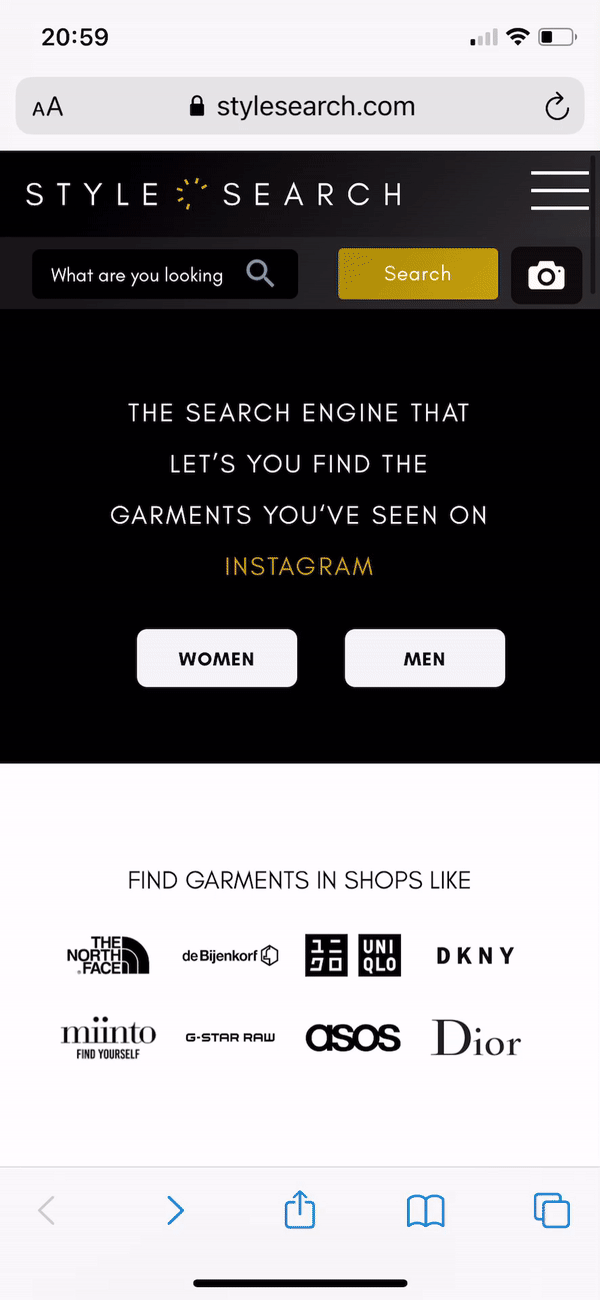 Tackling this challenge head on, we combine Visual Recognition Technology and Artificial Intelligence to help you find the garments you've seen on Instagram.
We launched our search engine in early May 2020 and just recently relaunched with our current platform.
​
Recognized as a top 10 fashion disruptor globally by the likes of Prada, Stone Island, PWC and Accenture, we are already making waves in the fashion industry. To keep the momentum we have created we are looking for a Social Media & PR Manager to help drive us forward.
SOCIAL MEDIA & PR MANAGER
You will be responsible for the overall Social Media and PR strategy, including expanding and growing the Social Media channels

You will manage the advertising and PR budgets

You will be responsible for all content creation, copywriting and content management on our Social Media and for PR

You will work closely with our Influencer Management team to create strong and engaging influencer campaigns

You will come up with and set up activations and build an online community

You will create reports to judge performance of campaigns and PR activities and are always looking to optimize our Social Media and PR strategy

You will manage the content calendar and ensure that all content gets online on the various social channels as scheduled

You will keep track of new Social Media tools and trends and everything that's happening in the world of Social Media

You will build strong relationships with media and press, be the main point of contact and maintain daily contact with them for press inquiries and publications

You will write strong content and press releases and actively send them out and ensure they are picked up

You will actively seek awards on an ongoing basis that align with our business objectives
​You will be part of a great adventure with one of the top 10 most promising FashionTech startups globally

You will be submerged in the exciting world of fashion and influencers

You will have a key role in the company which has a great impact on all other departments

You will directly contribute to the success of a fast paced business that is going places

You will work alongside an inspiring, engaging and experienced team. We are informal, light hearted and believe that great work comes from a great team environment

You will see your ideas come to life. If you have a great idea and the drive to see it through, you can make it happen!
WHAT WE WOULD LOVE ABOUT YOU
You are a go-getter. Positive and energetic, you chase down opportunities and if you don't know how to do something you'll ask someone who does or go out and find a solution

You have an opinion. We are innovating every day and believe that great ideas can come from anywhere

You aren't afraid to 'get your hands dirty' beyond your primary role. We're a small team and help each other out even if "it's not my job"

You are flexible and above all don't have a 9 to 5 mentality. You should not have a problem interacting with influencers in the evenings or on weekends
You have a professional and intellectual capacity at an academic level

You have a minimum of 2 years of relevant work experience in a similar position

You have experience with advertising in Facebook Ads Manager and Google Ads Manager. Experience with TikTok and Snapchat Ads is a plus

You live and breathe social media and know exactly what is going on in that world

You are a real networker; you know how to build and maintain internal and external relationships

You love building brands and are clever with a pen

You have strong communication skills, are a positive person and love to be proactive

You have commercial, creative and strategic thinking skills

You obtain a structured way of working; are strong in planning and organisation, and have excellent attention to detail

You are a strong personality who is able to work autonomously and within a team

The world of fashion and e-commerce excites you and you have a strong understanding of digital marketing, blogging, vlogging and social networks

You are fluent in speaking and writing Dutch and English, other languages are a plus
This vacancy is on a full time basis (40 hours)

This vacancy is for a fixed term

We offer a salary between €2000 and €2300, depending on age and experience
Send your resume to Noud at noud@stylesearch.com and tell us a bit about yourself, why you want to work for StyleSearch and why you think you'd be awesome for this position.